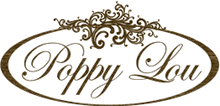 Poppy Lou online shop consists of a chic and earthy stylish collection of designer handbags, baby and beyond nappy bags and handbags, unusual and quirky range of children's bags, a divine selection of new born gift sets, shabby chic cot quilts, and an extensive collection of hair accessories, pretty petti skirts, boutique tshirts, gorgeous bits and pieces and more…
We specialise in sending personal memorable gifts, with our signature gift wrapping and elegant gift cards. Simply order your gift and we can guarantee your gift of choice will be beautifully wrapped and sent, giving that special person a "sent with love" feeling.
A beautiful online shopping experience is a distinct part of our service. Unlike any other Australian nappy bags and designer handbags online shops, Poppy Lou gives constant emphasis on total customer satisfaction. Using our user-friendly website, you can expect that your visit is completely hassle-free and always pleasant. Ready to shop? Please feel free to browse our diverse collections of designer bags online and other equally wonderful children's accessories. Order something today for your baby or send a gift to a loved one.
If you want to learn more about Poppy Lou and our products, check out our story and let's get acquainted. If you're looking for tips and other useful information about handbags and kids' accessories, read our blog, as that's where we post articles that you may find interesting.
For queries, comments and suggestions, or if you simply want to say "Hi," please don't hesitate to contact us. We'd love to hear from you! We also encourage you to like us on Facebook, and follow us on Twitter to get updated on the latest news about Poppy Lou.