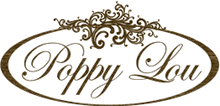 Poppy Lou is an Australian-designed family owned brand. With our passion for unsurpassed quality and attention to detail, our love for new and old, entwining together the unique feel of durable hand washable fabrics, earthy textures, creative textiles and classic colour tones- all of this brings together the inspiration behind our beautiful collection of out of the ordinary yet practical Designer Nappy Bags and Hand bags.

We have also extended our innovative range from the designer nappy bags and hand bags to a gorgeous collection of school bags, library bags, gift sets, children's must haves, cot quilts, hair accessories, boutique clothing and lots of gorgeous bits and pieces. We believe our range of exceptional gift ideas will be exactly what you're after.

We wanted to create an experience, not just another site that sells nappy bags and hand bags. We wanted to create somewhere we could display our creative range and then invite you to be part of what we call the poppy lou experience.

Complete customer satisfaction is what we thrive for, we pride ourselves in ensuring that your visit to our online store is not only stress free but easy and reliable. We then ensure your orders are wrapped and dispatched promptly.

We love our community and the Australian environment and like to encourage the usage of environmentally friendly materials. We soon hope to expand into being able to offer continual support for regional charities helping rural based families
Exceptional value for money…
"I absolutely love the poppylou handbag I recently purchased online ,as a mum with lots to carry. The size is perfect very roomy, and the attention to detail is beautiful, exceptional value for money."